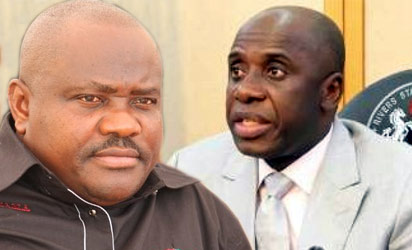 The outcome of the Ekiti governorship election has kindled passion in Rivers State with both sides of the political divide drawing permutations on the consequences of the election on the aspiration of the various political tendencies in the state.
By Egufe Yafugborhi
WHICHEVER way the pendulum had swung, the outcome of the just concluded governorship polls in Ekiti was anticipated to attract fresh permutations as to its implications for 2019. As it turned out a tense victory for the All Progressives Congress, APC, the ripple effect in Rivers state inflamed the bitter war of words between Governor Nyeson Wike's ruling People's Democratic Party, PDP and the APC.
Wike, following the Independent National Electoral Commission's declaration of Kayode Fayemi as winner in Ekiti, had termed the election as "worst political robbery" in Nigeria's democratic history with the boast that such cannot be replayed in Rivers come 2019.
He told the Rivers electorate, "Don't be worried about what happened in Ekiti. We are prepared. It will not happen here in Rivers State. I have never experienced that kind of robbery in politics.
"I told my colleagues, don't give them any chance. Most of them in APC are happy that they will repeat the same in Rivers. We are waiting, come and repeat. Let your spirit not be down, work hard and victory will be ours"
Reckless smears against Wike, Supreme Court
Whereas Rivers APC responded with restraint on the implication of the victory of the party in Ekiti for what is expected in Rivers come 2019, surprisingly it was Joe Igbokwe, the spokesman of the Lagos State chapter of the APC who went into the fray with Wike.
In a facebook post on Monday 16th  July, the day after the result was announced, , Lagos APC, reportedly wrote "Wike will not have the audacity and the temerity to kill again in Rivers and run to Supreme Court to buy justice. It will never happen again in Nigeria where Buhari is President"
In spontaneous response, Rivers State Government through the Commissioner for Information and Communication, Emma Okah, asked Igbokwe to substantiate the allegations or face appropriate action from the government.
"It takes a lunatic or one whose vision of reality is distorted to disgrace the Supreme Court and paint the Nation's Judiciary black in a bid to bring down a sitting Governor whose only offence is that he has asked that things be done right in Nigeria. "Certainly Joe Igbokwe belongs to the axis of evil that sees nothing wrong in the killing of fellow Nigerians especially his kinsmen and that is why he carelessly brands a governor as a killer even without any iota of evidence.
"Igbokwe and his sponsors in their hallucinations cannot come to terms that Wike has remained the conscience of Nigeria's democracy and delivered more projects and dividends than any governor since 2015. For this reason his (Igbokwe) baseless and malicious reference to Wike as a killer remains worthless and empty", Okah stated.
He further noted, "Irrespective of what happened in Ekiti State last Saturday, Joe Igbokwe has no moral justification to insult Governor Wike in the reckless manner that he did without provocation. In the event that he fails  within seven days  to name the Supreme Court Justices he claimed Wike gave money or the persons killed by the governor, Joe Igbokwe will hear from us"
Chairman, Rivers APC, Ojukaye Flag-Amachree, on implications of the Ekiti governorship result said, "I have no doubt same enabling and equal playing field will be provided during the 2019 elections in Rivers State to enable the people freely express their electoral choice unlike in 2015 elections when federal power and massive violence were deployed to capture power for the PDP.
"It is noteworthy that not a single soul was lost in the Ekiti governorship elections under the Buhari-led federal government unlike in 2015 in Rivers State where the PDP federal government colluded with its Rivers State Chapter and governorship candidate to kill and maim over a thousand souls before, during and after that election.
"In 2019, it is important to re-emphasise that APC and the people of Rivers State will never allow thunder strike twice in the same place," Ojukaye declared.
Related